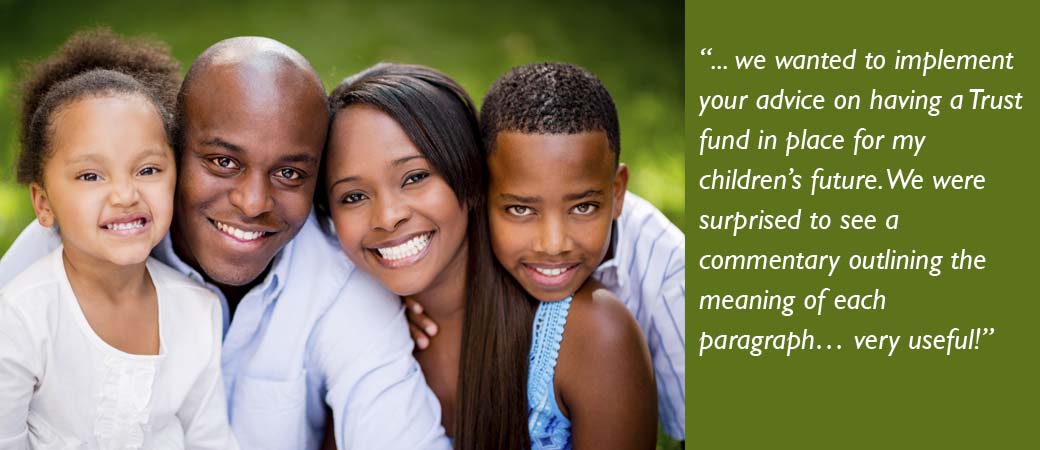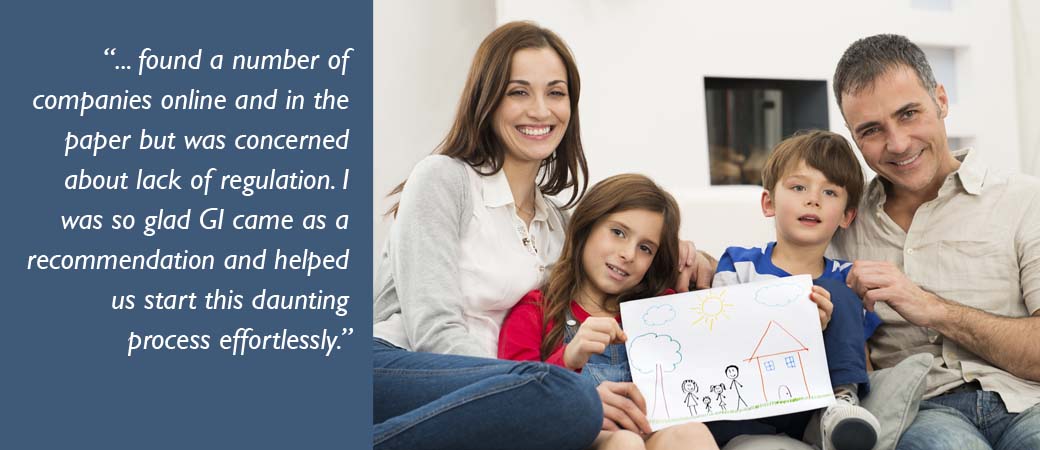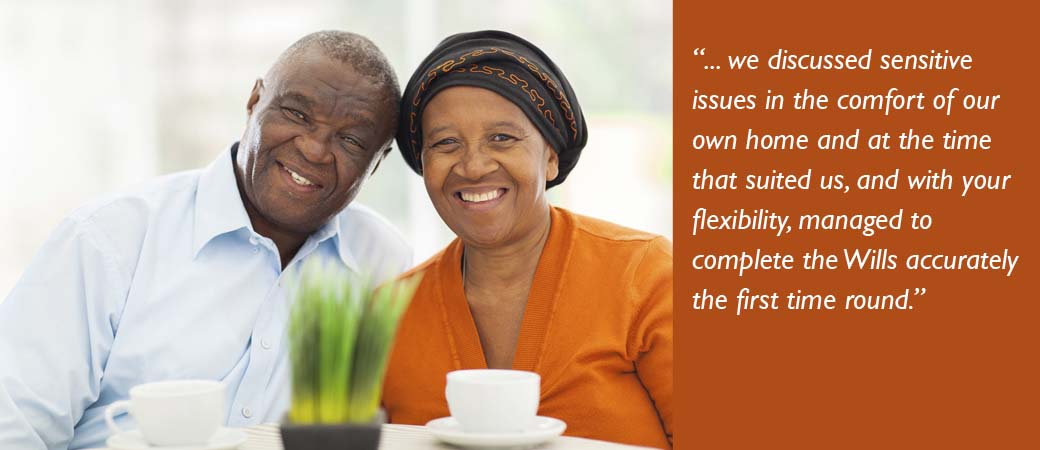 Peace of mind comes from knowing that the 'what if's' in life have been taken care of.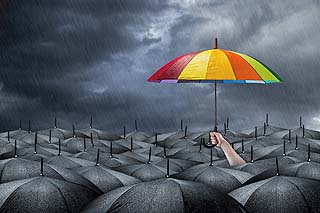 "I had put off writing my Will for some time as i thought it would take a long time and be quite complicated. I was wrong, Guardian Inheritance made the whole experience simple and quick."
Wills, Succession Planning & Storage
Single and 'Mirror' Wills

To satisfy the wishes of single people, unmarried and married couples, including those who have entered into a Civil Partnership, thereby ensuring that your wishes, as to the dispersal of assets after death are formalised.

A Will takes control of your entire estate when you die. It is therefore important that it be kept safe and in good condition until it is required. A will is the only place where you can legally nominate Guardians for your children. A Will ensures that those you would like to inherit when you die (your chosen beneficiaries), are clearly identified. You can appoint Executors of your choice within your Will to take your Will through the Probate process.

We understand that the thought of writing a Will can be stressful, and therefore, easy to 'put off for another day'. Our consultant's sympathetic and understanding approach will make writing your Will a stress free experience, ensuring that your wishes are formalised with minimum anxiety, for you and your loved ones.

Many believe that if you wish to exclude someone from benefitting from your estate, you simply do not include that person as a beneficiary in your Will. This may not be the case. In order to prevent a successful challenge to your wishes, proper legacy planning will be required. See Life Time Trust.

Storage

Wills cannot be found in the UK for about 70% of those who die. Some of those 70% will have had Wills drafted; however their executors were unaware of the location. Consequently the testator would have died intestate and the assets will be distributed in accordance with government rules and not necessarily the testator's wishes.

Of the approximately 30% of deaths where the Will has been located, a significant proportion fail at the probate stage, due to having been defaced or damaged, or not being signed or witnessed adequately, or any number of reasons. Those testators too will die intestate.

Therefore, it is essential that your Will is correctly attested, easily accessible by your Executors, when required, and in good condition when presented for probate.

It is advised that clients take advantage of our storage facility to store their Wills. Upon receipt of your Will, we will check that attestation has been completed correctly and then notify you that we have your Will in our possession. We will then write to your chosen executors, outlining their future responsibilities and duties and advising them that your original Will is with us. We will also let them know how they can release your Will when necessary.

We then place your Will into our secure storage facility. Upon your death, we will deliver the Will to your Executor (mainland Britain only). Proof of identity and a death certificate must be provided before we release the Will.


Who needs a Will?



• Anyone who has assets they would like to pass on, after death, to specific people. This may not happen without a Will, even if you are married or have been through a Civil Ceremony.
• Everyone who has children under 18 years of age, or other dependents.
• Anyone working in the armed forces, emergency services or working in any hazardous occupation.
Why do I need a Will?



In the U.K., Wills cannot be found for approximately 70% of those who die, causing untold anxiety, problems and additional costs for their loved ones; reducing the value of their families' inheritance.

• Without a Will your spouse may not inherit your entire estate.
• Without a Will your life partner may receive nothing, if you are unmarried or have not entered into a Civil Ceremony, as the law treats you both as single.
• Without a Will your family may, in certain circumstances, be liable for a tax bill of 40% on whatever value passes, above the Inheritance Tax allowance.
• Without a Will, on your death, guardianship of any of your children aged under 18 may be unclear; leaving the courts to decide on their welfare.
• Without a Will your assets may pass into the possession of someone you specifically wanted to exclude, such as an estranged spouse or child.
• Without a Will your home may be at risk in the event of the surviving spouse requiring long term care. (See Trusts)
• Without a Will the costs of obtaining Probate may be significantly higher, resulting in a lower inheritance for those closest to you.

But with a Will you control the dispersal of your assets, avoiding distasteful disputes between/amongst your beneficiaries and reducing the legal costs involved with Probate, giving you peace of mind.
What do I do once I receive my Will?



When your Will arrives, you should check it carefully, making sure that all names, together with any addresses, are correct, and that your wishes as to the disposition of your estate are in accordance with the instructions you gave to our consultant during your meeting with him/her.

The Will should then be signed and dated by you in the presence of two independent witnesses. Both witnesses should also sign, then write their full names, addresses and occupations at the foot of the Will, in the place provided.

A person who has a benefit under the Will MUST NOT be a witness, nor should his or her spouse. It is strongly recommended that witnesses are totally independent from anyone mentioned in the Will or in any way connected with the Will.

You should then keep the will in a safe place, to eliminate the risk of fire, water damage, loss, or theft; any of which may cause your will to fail probate.
Where can I store my Will?



• A Will can be stored anywhere. It is however advised that a Will is kept out of the home, in case of fire, water damage, loss or theft.
• We advise clients not to place their Wills in a safe deposit box in the bank, as the executor may be unable to access the Will after your death.
• It is recommended to store your Will in a secure and safe environment, with an adequate climate control and fire rating and accessible to your executors.
What is Intestacy?



• Intestacy is when someone has died without a Will. This may be due to the executors being unable to locate the Will at your death or because the Will has failed probate or simply because no Will has been drafted.
What happens if someone dies without appointing guardians for their minor children?



• Without correctly appointed guardians in place, social services may place minor children into temporary care with a foster family, until a decision has been made as to who the appropriate care giver will be. The decision will be made by a family court judge and may not represent the wishes of the parents.


The Legal Services Guild is an organisation whose members consist of Solicitors, Barristers, accountants, IFA's and Insurance specialists. All members adhere to the Guilds Code of conducts and quality standards that are designed to give you the best levels of service and peace of mind that the right person is there for the right job.